Sunday, April 5, 2020
9:48 AM
Sunday, April 5, 2020
9:48 AM
Sunday, April 5, 2020
9:48 AM
We will end on April 12 by taking Holy Communion. Be sure to have bread and grape juice ready. Your home's leader will minister the Holy Communion; this is a very serious supper. We believe to seeing God's hand in our lives.
Guided by Apostle Victor Higueros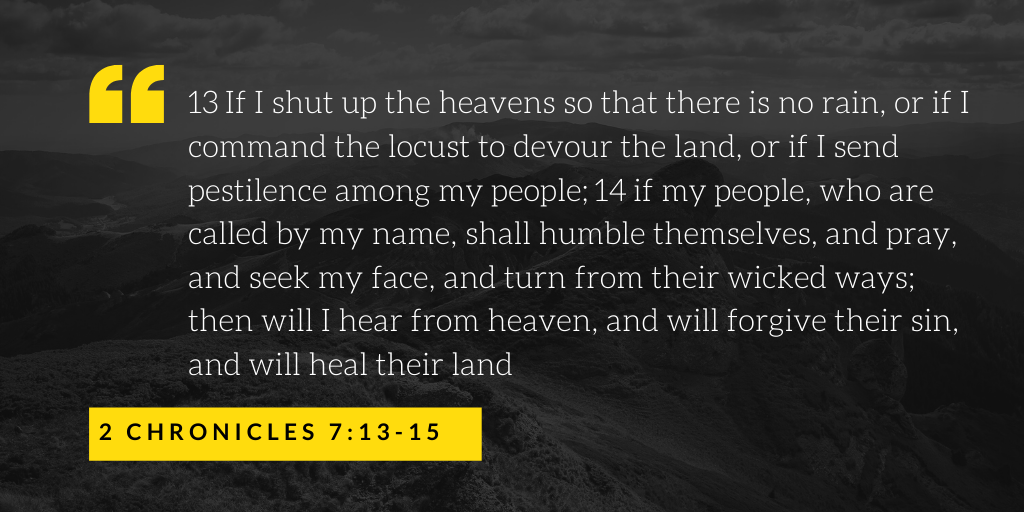 Day 1: April 5
Seek both a personal and family-wide brokenness and repentance so He can forgive and heal our lives and land of the nations.
2 Chronicles 7:13-15 (ASV)
13 If I shut up the heavens so that there is no rain, or if I command the locust to devour the land, or if I send pestilence among my people; 14 if my people, who are called by my name, shall humble themselves, and pray, and seek my face, and turn from their wicked ways; then will I hear from heaven, and will forgive their sin, and will heal their land. 15 Now mine eyes shall be open, and mine ears attent, unto the prayer that is made in this place.
Zechariah 1:3, 6, 15 American Standard Version (ASV)
3 Therefore say thou unto them, Thus saith Jehovah of hosts: Return unto me, saith Jehovah of hosts, and I will return unto you, saith Jehovah of hosts.
6 But my words and my statutes, which I commanded my servants the prophets, did they not overtake your fathers? and they turned and said, Like as Jehovah of hosts thought to do unto us, according to our ways, and according to our doings, so hath he dealt with us.
15 And I am very sore displeased with the nations that are at ease; for I was but a little displeased, and they helped forward the affliction.
Main Goal:
I. For everyone to examine their heart in brokenness and repent of their sins.
II.To ask forgiveness for humanity's sins and for other Christians who have sinned against God.
III.To pray for both for our nation's sins and those of others. On our knees, we pray that this pandemic, plague virus will dry up in the name of Jesus.
IV.We order the spirit of death to lose power.
In 2 Chronicles 7:13, we see a promise from God.
"If I shut up the heavens…" God is all powerful, he is able to shut up and open the heavens, environments, and the atmospheres.
If I shut these up is writtein in a conditional format; there's a condition for Him to "shut up the heavens."
Our attitude should be to ask for mercy in order to have grace; to change our behavior about staying home and not going outside; to groan in prayer, to obey His Word, to change our attitudes. Then He will hear us. He expects a genuine conversation, not lip service, but one out of our heart. If we do so, God will guard us.
Prayer:
Good Father and King who are on your throne, we worship and bless you right now. We have knelt down and in repentance ask for forgiveness and mercy. We repent of our incorrect living. We forgive those who have hurt us. We clean ourselves with your precious blood. Today, we begin this fast of salvation so that you may have mercy on my life, have mercy on the lives of my family, have mercy on this nation, and have mercy on the nations of the world. We believe you hear our prayer. We intercede for our President, for spiritual and governmental leadership. We intercede for the doctors, nurses, medical technicians, hospital employees, police, firefighters etc. We ask that there be someone to preach to them so those who are sick may be saved. Let the pain stop. Thank you Lord because your eyes are open toward my life, toward my home, and your ears are attentive to our prayers.
Published on Sunday, April 5, 2020 @ 9:48 AM CDT