Thursday, April 9, 2020
2:01 AM
Thursday, April 9, 2020
2:01 AM
Thursday, April 9, 2020
2:01 AM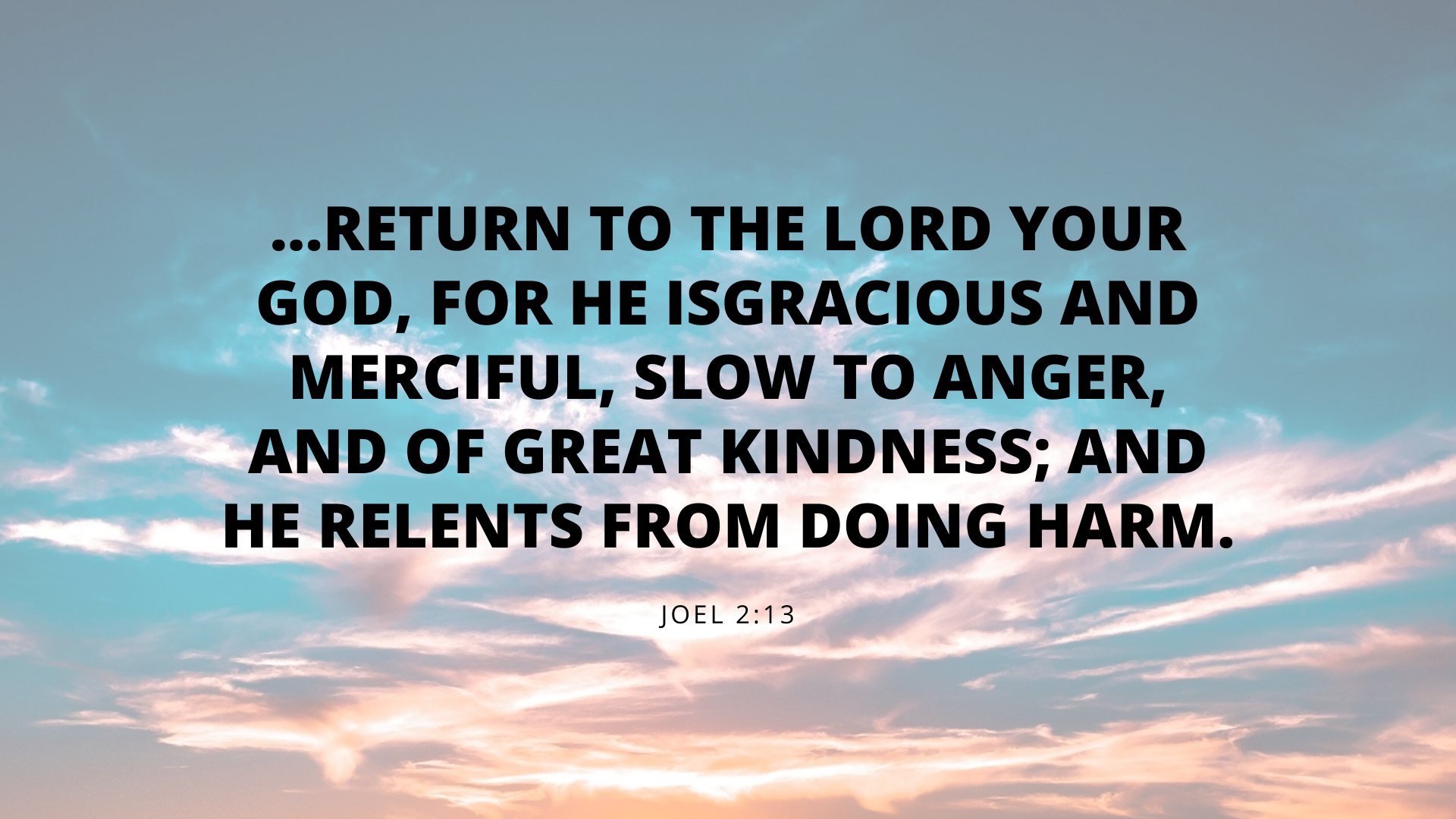 Day 5: April 9
"God's Mercy"

Joel 2:12-18 (NKJV)
12"Now, therefore," says the Lord, "Turn to Me with all your heart, With fasting, with weeping, and with mourning." 13 So rend your heart, and not your garments; Return to the Lord your God, For He isgracious and merciful, Slow to anger, and of great kindness; And He relents from doing harm. 14 Who knows ifHe will turn and relent, And leave a blessing behind Him— A grain offering and a drink offering For the Lord your God? 15 Blow the trumpet in Zion, Consecrate a fast, Call a sacred assembly;16 Gather the people, Sanctify the congregation, Assemble the elders, Gather the children and nursing babes; Let the bridegroom go out from his chamber, And the bride from her dressing room. 17 Let the priests, who minister to the Lord, Weep between the porch and the altar; Let them say, "Spare Your people, O Lord, And do not give Your heritage to reproach, That the nations should rule over them. Why should they say among the peoples, 'Where istheir God?' " The Land Refreshed18 Then the Lord will be zealous for His land, And pity His people.
Main Goal:
We should delight in the presence of God as we worship and bless His name. Our King will then hear our prayer. We are preparing an intercesionary atmosphere for what is happening in our nation and the nations of the world. First of all, in order to strengthen our faith in His presence, all anguish and fear must be removed. Let's pray for the repentance of world governments. May they have wisdom to make correct decisions. Our prayer is for God to quickly bring an answer. We pray for all the parents and their leadership at home. We pray for the elderly and those still in the womb. We're asking for mercy.
What is mercy? Mercy is not receiving what we deserve, i.e. sinners deserve death.
What is grace? Grace is receiving what we don't deserve, i.e. salvation is a gift. We are saved by His grace.
The prophet Joel exhorted Judah to turn their hearts to God. They were suffering terrible devastation; an army of locusts were devouring their crops. They were experiencing great agricultural ruin. Hence, the prophet called together all the inhabitants of the land, from the elderly to infant children, to weeping and mourning. Weeping because of the situation they were in - you may say we're talking about repentance and praying again - it's the only way we can make our God listen. The danger lies when people don't see the danger around them. They continue living their lives as if nothing is going on. We are called to plead and ask for mercy for what others are going through. God hurts to see our pain and punishment. Remember, God is our Father. Likewise, as parents we love our children. Many times you've had to correct your children even when it hurts you to do so. Every nation is in danger of death and it's not by an army of locusts as at that time. History tells us the locusts fell from heaven like a flood. The inhabitants dug trenches, lit bonfires, and ran out of strength as they tried to avoid further destruction. Their efforts were in vain. Let's pray to God for all the doctors, nurses, technicians, and custodians of this nation. They are giving their lives in order to save lives. It was terrifying to see the enemy without being able to do anything about it.
Their story seems similar to what we are experiencing now. The issue is that this enemy locust cannot be seen or touched. We can only see its victims. As children of the Kingdom, we have the weapons to fight.
2 Corinthians 10:4 (NKJV)
For the weapons of our warfare arenot carnal but mighty in God for pulling down strongholds,
We have Faith.
Hebrews 11:6 (NKJV)
But without faith it isimpossible to please Him,for he who comes to God must believe that He is, and that He is a rewarder of those who diligently seek Him.
We rely on the strength of God.
Psalm 73:25-26 (NKJV)
25Whom have I in heavenbut You? And there isnone upon earth thatI desire besides You. 26 My flesh and my heart fail; ButGod isthe strength of my heart and my portion forever.
We rely on His Word which is powerful and does return void.
Isaiah 55:11 (NKJV)
So shall My word be that goes forth from My mouth; It shall not return to Me void, But it shall accomplish what I please, And it shall prosper in the thingfor which I sent it.
As His children we have to be certain that God is in control of every difficult situation.
Joel 2:11 (NKJV)
The Lord gives voice before His army, For His camp is very great; For strong is the One who executes His word. For the day of the Lord is great and very terrible; Who can endure it?
The locusts represented the day of the Lord. I advise you not to spend time analyzing this event. Rather, your attention should be on its remedy and obeying the call. The Prophet Joel exhorted the priests to stand in the gap. He called them to prayer and fasting so that the people would turn to God in repentance.
Today's message for the world is repentance and salvation so when He returns no one may say they did not hear of Him. At that time, He won't come to save but to judge. Our Lord is alerting us. We have faith and hope that He will bring restitution to what's been damaged.
Joel 2:26 (NKJV)
You shall eat in plenty and be satisfied, And praise the name of the Lord your God, Who has dealt wondrously with you; And My people shall never be put to shame
When this is all over we will never be the same again. Hope will never abandon us if we are in communion with our loved ones and God. God never manifests Himself in a cruel and vengeful way. He forgives when there is repentance.
Just as sin involved everyone, from the elderly to the infants, so should it be with repentance. Do not be afraid, nor be dismayed! Involve your family, those who are in the ark with you, so there can be a genuine repentance. Take courage for God takes care of His children.
Published on Thursday, April 9, 2020 @ 2:01 AM CDT